ZNT-FUSE
The next generation adhesive.
ZNT-fuse® is a two-part epoxy adhesive thixotropic paste for composites reinforced with nanotechnology to optimize mechanical properties with nanomaterials. Evermore Applied Materials' nanotechnology successfully incorporates nanomaterial into ZNT-fuse® to take advantage of their outstanding properties, leading to performance increases. Used for bonding or filling applications, ZNT-fuse® is designed for many metals, woods, masonry products, and some plastics and rubbers. ZNT-fuse® was also designed to bond Arovex® composites. With a bonding strength stronger than welding, ZNT-fuse® can deliver significant advantages in high bonding, shear, peel strength, and very high levels of durability allowing our customers to rapidly repair and maintain their products.
Learn more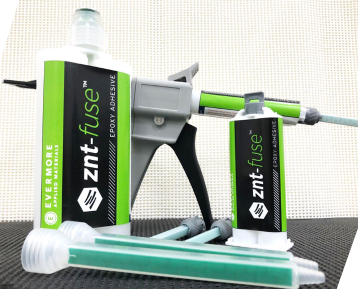 ZNT-E
Nano-partners for elastomer performance 4.0.
ZNT-E has the specialty products for elastomer application. With the proprietary dispersion technology which Evermore Applied Materials owns, ZNT-E contains the specially treated nanomaterials to enhance the product performance.
ZNT-E can be applicable to various rubber categories, such as Styrene-Butadiene Rubber, Butadiene Rubber, Natural Rubber, and many others. ZNT-E enhances the thermal conductivity, which is helpful to improve the life cycle of products. ZNT-E presents a great outcome regarding the abrasion resistance and tensile strength even with a very small amount of dosage. Not only the product performance is enhanced, but also the product weight is improved. The product weight can be reduced by using ZNT-E compared with the traditional material of micron grade. In addition to elastomers, ZNT-E also has products suitable for Sulphur and peroxide curing systems.
Learn more